WPW SATAN'S PRISONS 2014

"Welcome to the Lucifer's Garden !"

Informations rapides

Fédération
World Professional Wrestling
Main Event
WPW Championship
Jack Monroe vs Derek Fly
Thème Musical
"Fuel " de Metallica

Détails

Date et lieu
Le 22 novembre 2014 à Chicago
Etats-Unis, Illinois
Spectateurs
23 521 spectateurs
Stade
Allstates Arena
Critique
The Sun : 9.06/10

Chronologie

Précédent
WPW Battle Square 2014
Suivant
WPW Burning Falls 2014
L'édition 2014 de WPW Satan's Prisons est une manifestation de catch professionnel télédiffusée et visible uniquement en paiement à la séance. L'événement, produit par la World Professional Wrestling, a eu lieu le 22 novembre à Chicago dans l'Illinois. Elle est la 9e édition de Satan's Prisons de l'histoire.
Satan's Prions est connu pour être parmis les plus grands Pay-Per-View de l'année, chaque édition de ce PPV est acclamé par la critique et est un succès au niveau des ventes.
Les PPV qui sont considéré comme "grands" à la WPW hors Stars Way sont : Satan's Prisons, Breaking Rules et Red Alert.
Autres éditions
Edit
Officiels
Edit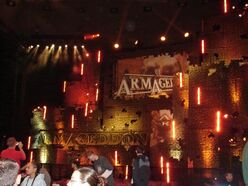 Commentateurs
Edit
Slam : Ted Carter & Mitch Robbins
Annonceur du ring
Edit
Interviews :
Edit
Les spectacles de la WPW en paiement à la séance sont constitués de matchs aux résultats prédéterminés par les scénaristes de la WPW. Ces rencontres sont justifiées par des storylines — une rivalité avec un catcheur, la plupart du temps — ou par des qualifications survenues dans les émissions de la WPW telles que Slam, Degenerate, Extreme ou encore Clash. Tous les catcheurs possèdent un gimmick, c'est-à-dire qu'ils incarnent un personnage gentil ou méchant, qui évolue au fil des rencontres. Un pay-per-view comme Satan's Prisons est donc un événement tournant pour les différentes storylines en cours.
Une armée d'artistes de cirque ont débarqué dans l'Elimination Chamber par équipes.
Stair While a utilisé sa mallette après la victoire de Stephens et l'a battu pour devenir le nouveau WPW World Champion.
Après le Main Event, Hector Sanchez est venu dire que c'était un test enfin de compte et qu'il souhaitait recruter Fly dans sa nouvelle organisation naissante mais Fly refuse catégoriquement et la soirée se fini ainsi.
Résultats
Edit
No.
Match
Stipulation
Durée
Notes
P.S
Sam Halley déf. Shizen
Match simple, le vainqueur participera à l'Elimination Chamber
08:04
**½
1
The Lords (c) déf. The Brooks et The Skullakens
Traditional Satan's Prisons 6 Men Elimination Chamber Match pour les WPW Tag Team Championship
17:46
****¼
2
Roderick Ruppert (c) déf. Antho De Milano
Match simple pour le WPW National Championship
08:33
*¾
3
Matt Twist déf. Shad Lawing (c)
Falls Count Anywhere pour le WPW Extreme Championship
15:01
***½
4
Iceman Hotty (c) déf. Mike Fatal, Sam Halley, Slash Keene, Karim Black, Edwin Oakley
Traditional Satan's Prisons 6 Men Elimination Chamber Match pour le WPW Heavyweight Championship
24:47
****
5
Hugh Stretch déf. Kragor Chenko, Brutus, Shia Nate
"Butler's Challenge" Fatal 4 Way
03:16
*½
6
Michael Anderson déf. John Michaels
Match simple
10:43
**¾
7
Matt Stephens déf. Kenji Gauthier (c), Jean Richard, Randy Omega, David Red, Bryan Stanford
Traditional Satan's Prisons 6 Men Elimination Chamber Match pour le WPW World Championship
21:11
***¾
Stair While déf. Matt Stephens (c)
"Briefcase Match" pour le WPW World Championship
8
Derek Fly (c) déf. Jack Monroe
Match simple pour le WPW Championship
19:07
****¼
(c) désigne le(s) champion(s) défendant son titre dans le match.