WPW SATAN'S PRISONS 2015

" Lie.. cheat.. steal.. "

Informations rapides

Fédération
World Professional Wrestling
Main Event
WPW Championship
Layson White vs Tyler Butler
Thème Musical
Sucker for Pain - Wiz Khalifa, Lil Wayne etc..

Détails

Date et lieu
Le 10 octobre 2015 à Tampa
Etats-Unis, Floride
Spectateurs
16 400
Critique
The Sun : 7.41/10

Chronologie

Précédent
WPW Battle Square 2015
Suivant
WPW Burning Falls 2015
L'édition 2015 de WPW Satan's Prisons est une manifestation de catch professionnel télédiffusée et visible uniquement en paiement à la séance. L'événement, produit par la World Professional Wrestling, a eu lieu le 10 octobre à Chicago dans l'Illinois. Elle est la 9e édition de Satan's Prisons de l'histoire.
Satan's Prions est connu pour être parmis les plus grands Pay-Per-View de l'année, chaque édition de ce PPV est acclamé par la critique et est un succès au niveau des ventes.
Les PPV qui sont considéré comme "grands" à la WPW hors Stars Way sont : Satan's Prisons, Breaking Rules et Red Alert.
Autres éditions
Edit
Officiels
Edit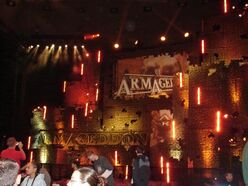 Commentateurs : Ted Carter & Mitch Robbins & Lucas Luzani & Karen Lavar
Annonceur : Vic Brawking
Interviews : Kevin Moran & Christy Grills
Les spectacles de la WPW en paiement à la séance sont constitués de matchs aux résultats prédéterminés par les scénaristes de la WPW. Ces rencontres sont justifiées par des storylines — une rivalité avec un catcheur, la plupart du temps — ou par des qualifications survenues dans les émissions de la WPW telles que Slam ou Degenerate. Tous les catcheurs possèdent un gimmick, c'est-à-dire qu'ils incarnent un personnage gentil ou méchant, qui évolue au fil des rencontres. Un pay-per-view comme Satan's Prisons est donc un événement tournant pour les différentes storylines en cours.
Résultats
Edit
#
Match
Stipulation
Durée
Notes
P.S
Jake Spade (c) déf. Colin Barnes
Match simple pour le WPW Middleclass Championship
08:35
**¼
1
Gabriel Andews (c) déf. Dan Basquash - via DQ
Match simple pour le WPW Heavyweight Championship
05:03
*¼
2
The Gangstaz (c) déf. The Skullakens & Shizen et Fallen
Traditional Satan's Prisons 6 Men Team Elimination Chamber Match pour les WPW Tag Team Championship
18:17
***½
3
Nick Michaels (c) déf. Randy Omega
Match simple pour le WPW National Championship
11:59
**¾
4
Aymeric Brooks (c) déf. Matt Twist
Match simple pour le WPW World Championship
18:03
***¾
5
Karim Black déf. Iceman Hotty & Kenji Gauthier & Matt Stephens & Connor McKenzie & Kyle Brooks
Traditional Satan's Prisons 6 Men Elimination Chamber Match pour une Championship Touch
31:09
****
6
Jason White (c) déf. Tyler Butler
Match simple pour le WPW Championship
20:07
**¾
(c) désigne le(s) champion(s) défendant son titre dans le match.
Community content is available under
CC-BY-SA
unless otherwise noted.