THE STARS ROAD III

" This is Epic ! "

Informations rapides

Fédération
World Professional Wrestling
Main Event
Jack Monroe vs Kyle Johnson
Thème Musical
Star de Hellyeah
Family Reunion de Saliva

Détails

Date et lieu
Le 27 juillet 2008 à Los Angeles
Californie, Etats-Unis
Spectateurs
66 285
Stade
L.A Memorial Coliseum
Critique
The Sun : 7.28/10

Chronologie

Précédent
WPW Stars Road II
Suivant
WPW Stars Road IV
L'édition 2008 de WPW Stars Road est une manifestation de catch professionnel télédiffusée et visible uniquement en paiement à la séance. L'événement, produit par la World Professional Wrestling, a eu lieu le 27 juillet 2008 au Los Angeles Memorial Coliseum à Los Angeles en Californie. Il s'agit de la 3e édition annuelle de Stars Road.
Stars Road est le plus grand PPV de l'année à la WPW, il est aussi l'un des événements les plus attendu pour tout les fans de ce sport. Il est surnommé « The Grestest Event Of 21th Century » (Le plus grand événement du 21ème Siècle) ou même « The Legendary Stage » (La scène Légendaire). Ce PPV existe depuis 2000 exactement, il s'appelait à l'époque AWC Glorious Night, le show a été noté comme étant le plus grand événement de l'année en 2000 et il eu 5 éditions ensuite mais l'American Wrestling Championship ferma ses portes et eu une extension mondiale en 2005, les grandes stars de l'AWC créèrent avec les Carry la World Professional Wrestling. Stars Road sera le grand rendez-vous de l'année.
Une participation à un match de Stars Road, et particulièrement au Main Event, est considérée par beaucoup de lutteurs et de fans comme l'un des plus grands accomplissements d'une carrière et comme un symbole de réussite dans le catch professionnel.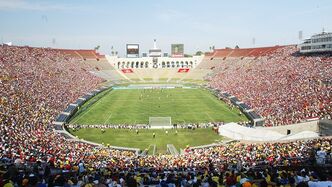 Officiels
Edit
Commentateurs :
Edit
Slam : Ted Carter & Georges Lonely
Degenerate : Karen Lavar & Donny Horten
Annonceur du ring :
Edit
Interviews :
Edit
Kevin Moran (Slam)
Christy Grills (Degenerate)
Les spectacles de la WPW en Pay-Per-View sont constitués de matchs aux résultats prédéterminés par les scénaristes de la WPW. Ces rencontres sont justifiées par des storylines (une rivaluté avec un catch la plupart du temps) ou par des qualifications survenues dans les émissions de la WPW telles que Slam, Degenerate, Clash ou Extreme. Tout les catcheurs possèdent une gimmick, c'est-à-dire qu'ils incarnent un personnage gentil ou méchant qui évolue au fil des rencontres. Un évènement comme Stars Road est donc un évènement tournant pour les différentes storylines en cours.
Big Grey réussi l'exploit de battre Blaström qui était le catcheur le plus dominateur de la WPW, invaincu depuis ses débuts preque 1 an auparavant.
Team Slam (Vince Attano, John Michaels & Dan Welsh)
Team Degenerate (Wayne Griffin, Leone & The Brit)
Résultats
Edit
No.
Match
Stipulation
Durée
Notes
F.P
Excalo déf. Gil Dwayne (c) & Krys Connor
Triple Threat Match pour le WPW Middleclass Championship
07:50
*¾
1
Victor Pelomino (c) déf. Charlie Dicks
Extreme Rules pour le WPW Extreme Championship
13:47
***½
2

Doug Miranda déf. Rachet

Match simple

03:08

¼*

3
Team Slam [Vince déf. Team Degenerate
3 vs 3 Ellimination Tag Team pour la Bataille des Shows
07:21
**¼
4
Big Grey (c) déf. Claus Blaström
Match simple pour le WPW National Championship
16:33
***¾
5
Zack & Hector Sanchez déf. Hal Knoxville
Match Handicap 2 vs 1
03:29
*
6
Roddy Clarks déf. Samuel Devon
Match simple
21:09
****
7
Gordon Leroy déf. Shawn McCarry
Last Man Standing
-- Le vainqueur reste GM d'Extreme
11:45
**¼
8
Coltran & Khodes déf. The Devons (c)
Tag Team Match pour les WPW Tag Team Championship
10:07
**¾
9
Kyle Johnson déf. Jack Monroe
Match simple
-- Le perdant perd son titre
-- Monroe est WPW Heavyweight Champion
-- Johnson est WPW World Champion
17:55
***¾
(c) désigne le(s) champion(s) défendant son titre dans le match.
Community content is available under
CC-BY-SA
unless otherwise noted.